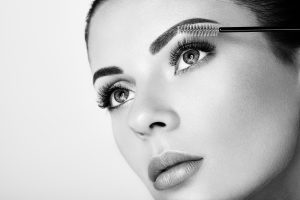 Eyes Are The Story Beauty Product Eye-Safe Cosmetics and Skincare Product with Clean Ingredients
We are very excited to be among the first eye clinics/doctors in the world to launch a new line of eye-safe cosmetics and skincare products. These products are developed by leading innovators in vision health, and are formulated for sensitive eyes, contact lens wearers, and sufferers of dry eye and digital eye strain. After all, Èyes Are The Story.
This is a new platform of eye cosmetics and skin care product that combines pharmaceutical and nutritional science to support the homeostasis and health of your eyes. All formulas are based on peer-reviewed scientific research, and inspired by world-renowned eye care professionals. The ingredients are vegan and paraben-free, and they follow strict European beauty product regulations.
Our lifestyle choices, such as our daily beauty product and face wash hygiene routines, can impact the delicate ocular surface and tear film. As a leading dry eye clinic in the country, our doctors specialize in identifying the root cause(s) of our dry eye disease patients. We are excited to finally have a line of beauty product that we can recommend to our patients.
To order, visit: www.eyesarethestory.com/visionoptique
Use Discount Code: 'winkwink' at checkout to receive 20% off
Current Products:
Women:
Eye Proof Liquid Eyeliner
Eye Proof Mascara
Men and Women (dry eye, blepharitis, contact lens wearers)
Eye Proof Refreshing Towelettes (Step 1 Eyelid Scrub, removes Eye Proof makeup well)
Eye Proof Facial Cleanser (Step 2 Eyelid and Face Wash)
Eye Proof Facial Serum (Step 3 Anti-aging Serum for Face and Eyelids)
Follow with your usual skin care product (future generation 2 products are in development)