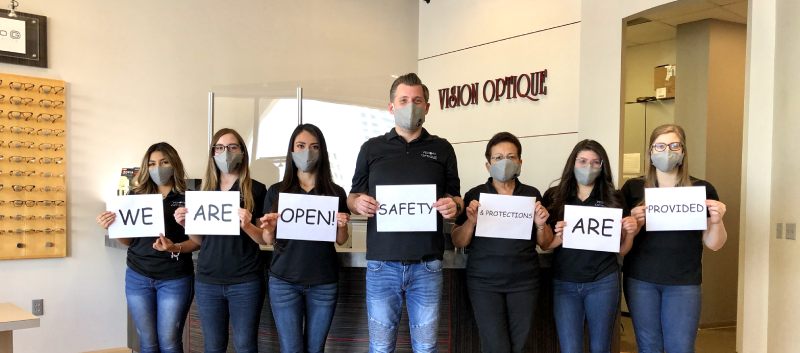 At Vision Optique, we have been closely monitoring the latest events of the COVID-19 pandemic. We want to thank all of our patients for following our strict safety protocols and screening process!
As we begin a new school year, we would like to provide an updated safety protocol:
Scheduling – Detailed COVID19 screening questions will be asked. Please allow at least two weeks of no symptoms and have a "negative" test result before you schedule an appointment, if you are diagnosed with COVID19. If it is a therapeutic visit, we will offer virtual and in-person visit options. We ask only one adult to accompany a child for the eye exam, please do not bring siblings who are not on the schedule for eye exams.
On the day of the exam – Front door remains locked, please call us at the door before entering the practice. Further screening will be done at the check-in station.
Face Masks – We are requiring everyone entering our clinic to wear face masks and to keep them on at the clinic. Our team members are also required to wear face masks full time during the clinic hours.
Fever Free Environment – Temperatures (forehead non-contact) will be taken upon entering our clinic. Anyone with > 100.1 degrees Fahrenheit or higher will be asked to reschedule.
Curbside Pickup – We will continue to provide curbside pickup for any products that you need from our office. Payment can be done by phone.
Disinfection – Disinfection is done before/after each patient encounter (with 70% isopropyl alcohol wipes and spray). All the fabric furnishing are replaced with disinfection friendly plastic furnishing at Vision Optique until the COVID-19 pandemic is under control
We are doing our best during this time of crisis in continuing to provide the highest quality and safest eye care. We will continue to provide updates on any further changes in our policy as the situation continues to evolve. We hope that you and your loved ones are remaining safe and healthy through this crisis. We will get through this if we work together!