Do your eyes feel tired after spending some time on the computer? Do you find that you cannot wear your contacts for very long during the day? Do you rub your eyes frequently? Do you experience fluctuating vision on a daily basis?
If you answered "Yes" to any of these questions, you may be suffering from Modern Dry Eye.
Dr. Kelly K. Nichols, O.D., MPH, Ph.D., FAAO and Dean of the University of Alabama at Birmingham School of Optometry has noted that "Many people feel like they need to live with dry eye symptoms and may not realize the impact of dry eye on vision, comfort, and eye health… In some cases dry eye disease may cause damage to the ocular surface. If symptoms are interfering with a person's daily activities in any way, then they should seek the advice of an eye care professional."
As society becomes more technologically advanced, Dry Eye Disease becomes more prominent in our daily lives. Compared to 10 years ago, most 89% of eye care professionals report seeing an increase in the number of young patients (aged 18-34) with dry eye symptoms.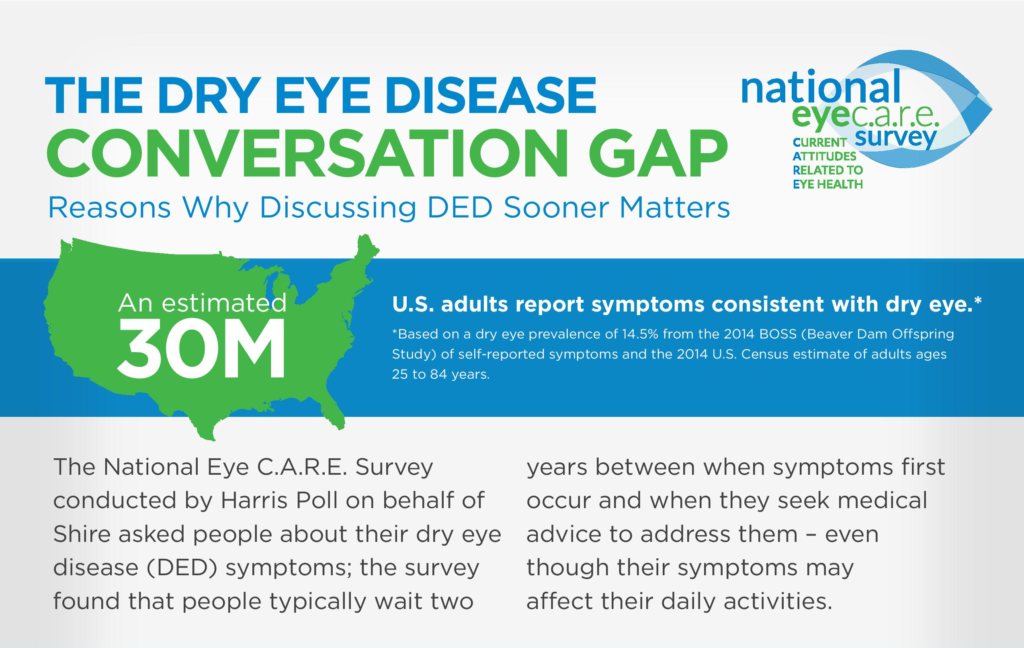 In 2015, the National Eye C.A.R.E. (Current Attitudes Related to Eye health) Survey polled more than 1,200 adults about Dry Eye symptoms and how it affects their lives as well as more than 1,000 eye-care professionals about the prevalence of Dry Eye Disease in their practice.
The National Eye C.A.R.E. survey revealed that despite the fact that Dry Eye Disease may negatively affect one's mood, ability to function or work, more than half of adults with dry eye symptoms report waiting at least 2 years before seeking medical advice!
The National Eye C.A.R.E. survey found that 92% of eye care professionals associate the use of modern technology with increased dry eye symptoms. Fluctuating vision, burning, gritty, or stinging sensations are all symptoms of Modern Dry Eye exacerbated by increased screen time.
With digital device usage on the rise, children and adults alike are experiencing longer exposure to screens. Increased engagement with digital devices and their resulting glare appears to be causing a decrease in the quantity and quality of blinks. Lack of proper blinking often results in Dry Eye symptoms and may ultimately lead to Digital Eye Strain, Dry Eye Disease, Meibomian Gland Dysfunction, and decreased contact lens wearing time.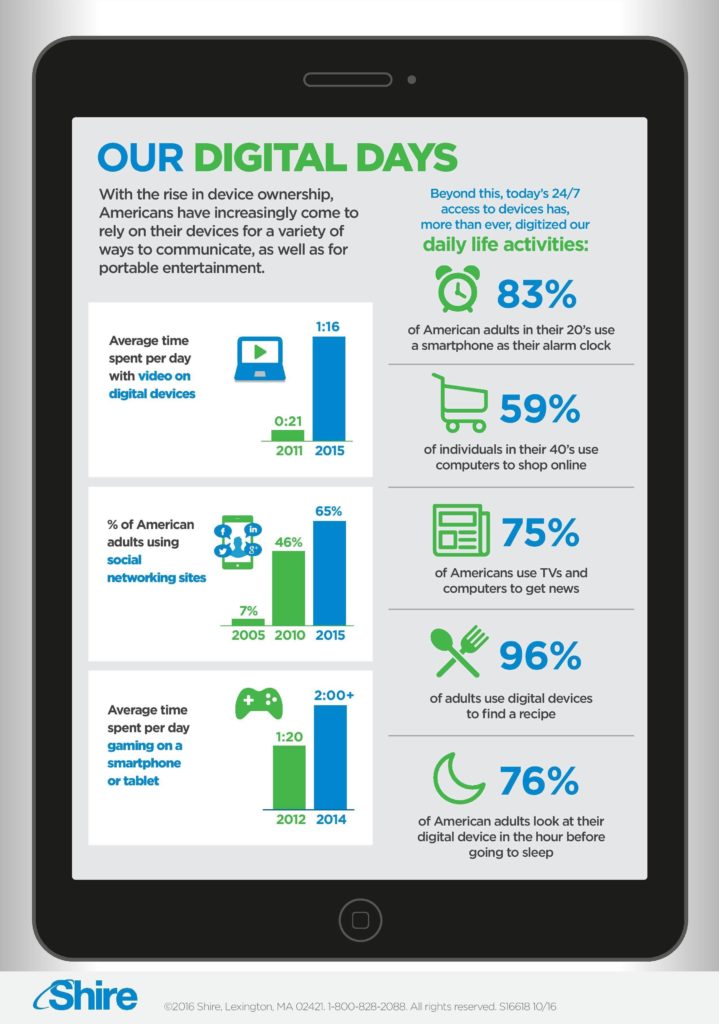 Click on the above image of a tablet to see most statistics listed on the infographic.
So how do we go about treating Modern Dry Eye?
In today's world, limiting our screen time is no longer a practical request. Most workplaces utilize computers, many schools incorporate the use of digital devices within the curriculum, and all social media/networking can now done through a device that fits in the palm of your hand.
The good news is that there are plenty of preventative measures we can take to mitigate the signs and symptoms of Digital Eye Strain and Modern Dry Eye. To learn more about how you can improve your Dry Eye symptoms, contact us today at (713) 838-2020 or use our online appointment request form to schedule a Dry Eye Examination.
| | |
| --- | --- |
| | About the Author Dr. Erica Ngo, O.D. is an optometrist fascinated by dry eye disease, ocular surface disease, and digital eye health. Dr. Erica Ngo is passionate about protecting and preserving eye health with a focus on aesthetics, makeup, and fashion. On her free time she enjoys latin dancing, food, travelling, and playing with her fluffy companion. She lives in Houston and is always looking for ways to explore and give back to her community. |
| | About the Editor Dr. Bridgitte Shen Lee is an optometrist and the co-founder of Vision Optique. She is passionate about helping people see better and live better lives, and inspiring other eye care professionals. Dr. Shen Lee writes and lectures on the topics of Digital Eye Health, Dry Eye Disease, Health Care Social Media, and Aesthetic Optometry. She also enjoys raising her young daughters to be global citizens and volunteering her time and talent at schools and in the Houston community. |